Welcome to MACDC - The Massachusetts Association of Community Development Corporations
At Our Core
MACDC is an association of mission-driven community development organizations dedicated to creating places of opportunity where ALL people can live with dignity while participating in and benefiting from our Commonwealth's economy.
Learn more about: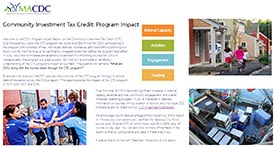 As a tool to increase and establish a diversified mix of funding sources for CDCs in Massachusetts, the CITC program is a great success. But that isn't a complete or satisfactory understanding of the CITC program's impact on our field. Through this report, MACDC explores the impacts of the CITC program in 2015, 2016, 2107, and 2018.
---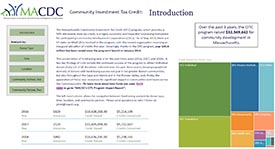 Dig into the CITC fundraising data. Learn about the business sectors and zip codes with the greatest levels of support.
Secretary Kennealy on a visit of Way Finder's Live 155 Project in Northampton
MACDC would like to thank Secretary Mike Kennealy, and Undersecretary for Housing and Community Development, Janelle Chan, for taking the time to visit affordable housing projects across Massachusetts.
Massachusetts hospitals devote millions of dollars annually to public health programs that serve their surrounding communities. As hospitals shift the focus of their public health programs towards upstream issues such as housing, education, and employment, it is important that they partner with organizations that are engaged in these areas, such as CDCs.
No front page content has been created yet.