Growing Opportunities, Assets, and Leaders across the Commonwealth
Since 2003, MACDC and our members have collaborated on a collective effort to revitalize and stabilize communities across the state. The MACDC GOALs Initiative - Growing Opportunities, Assets, and Leaders across the Commonwealth - sets specific numeric targets that CDCs hope to achieve in six areas of community development and then measures our annual progress toward those goals. Each year, we conduct a detailed on-line survey of our members to learn precisely what they have accomplished.
Community Development Corporations (CDCs) are community-controlled, nonprofit organizations that work throughout the commonwealth to build more inclusive, vibrant, and productive communities. Since their inception more than 30 years ago, Massachusetts CDCs have developed over 25,000 homes and attracted several billion dollars of investment to low- and moderate-income communities.
A Special Thanks to the MHP Center for Housing Data for Supporting MACDC's GOAL's Program.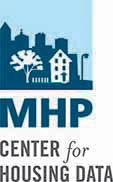 In 2017, MACDC is highlighting the success CDCs in Massachusetts achieved in 2016 including the following results:
Engaged 2,228 community resident leaders to guide and shape our efforts in local neighborhoods and communities;
Built or preserved 1,643 homes;
Created or preserved 5,285 job opportunities;
Helped 2,265 entrepreneurs start, grow or stabilize their businesses;
Provided economic and educational opportunities to 81,219 families with housing, jobs, training, or other services; and
Attracted $587.1 Million in private and public investments for community revitalization.