Welcome to MACDC - The Massachusetts Association of Community Development Corporations
At Our Core
MACDC is an association of mission-driven community development organizations dedicated to creating places of opportunity where ALL people can live with dignity while participating in and benefiting from our Commonwealth's economy.
Learn more about: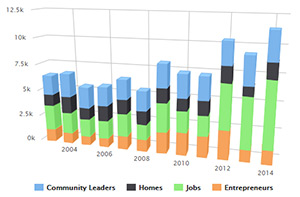 2015 MACDC GOALs Report Released
CDCs are deeply impacting communities across Massachusetts by building homes, creating jobs, supporting entrepreneurs and helping families become stabilized and thrive. Our members are helping redefine communities long identified with blight, disinvestment and poverty. Through our members work, over $3.3 billion has been invested in the Commonwealth.
Learn more about the deep and lasting impact of our field and how it's helping transform neighbhorhoods and towns across Massachusetts.

MACDC set out earlier this year to learn more about what our members are doing to participate within and grow the creative economy here in Massachusetts. We know our members are involved in a wide variety of activities, but what we learned surprised even us!
Members of MACDC met with leaders from Boston 2024 on July 24 to learn more about the proposed Olympic bid and to discuss how the games will ensure an equitable legacy in terms of housing, displacement, jobs, parks and transportation. The meeting was in response to an earlier letter that MACDC had sent back in February. Boston 2024 outline
No front page content has been created yet.