Welcome to MACDC - The Massachusetts Association of Community Development Corporations
At Our Core
MACDC is an association of mission-driven community development organizations dedicated to creating places of opportunity where ALL people can live with dignity while participating in and benefiting from our Commonwealth's economy.
Learn more about:
Friday, November 15th: 9:00am - 2:00pm
College of the Holy Cross, Worcester
---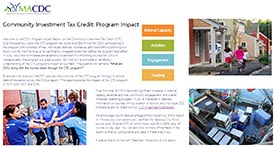 As a tool to increase and establish a diversified mix of funding sources for CDCs in Massachusetts, the CITC program is a great success. But that isn't a complete or satisfactory understanding of the CITC program's impact on our field. Through this report, MACDC explores the impacts of the CITC program in 2015, 2016, 2107, and 2018.
---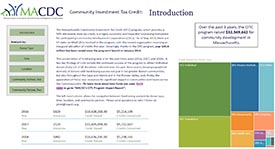 Dig into the CITC fundraising data. Learn about the business sectors and zip codes with the greatest levels of support.
No front page content has been created yet.